Some of Our Services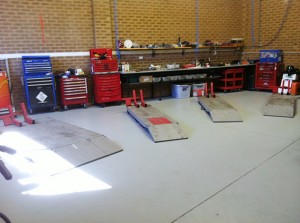 At High Octane Motorcycles we are all about easy, efficient, friendly, hassle free sales and servicing. We want to give you, our customer, the best possible value and every competitive edge be it on the road or track. Here are some of our many services:
Dyno Tuning • Servicing • Crash Repairs • Motorcycle Roadworthy Inspections • Spare Parts • Accessories • Race Preparation • Suspension Set Up • Tyre Sales Fitting & Puncture Repair • Detailing • Motorcycle Pick Up & Delivery • Motorcycle Trailer Hire & Sales
We only employ and entrust your motorcycle to qualified motorcycle mechanics.  Our Dyno Dynamics Dyno allows us to either re map your fuel injected, or re jet your carby (naturally aspired) motorcycles.  We offer a "Premium Service" where we pick up your motorcycle when due for service, after hours when you are at home of course, service it according to the manufacturers specifications, wash/clean it and deliver it back to your door looking a million dollars.  After hours we even offer a recovery service, so if you are in the unfortunate instance of having a flat tyre, or heaven forbid involved in a riding mishap, High Octane Motorcycles are only a phone call away.  Our quality workmanship and the use of OEM (and or equivalent parts) will NOT void your manufacturers warranty.  Servicing your motorcycle has now become a breeze and all at a very competitive rate.
See you shortly and see for yourself as to why High Octane Motorcycles are changing the way people are going about their motorcycle motoring.